Get Your Technician License – Check back for info on fall class
Snoqualmie Valley Amateur Radio Club will be teaching their popular Technician License Class. This amateur radio class is being held at the Duvall Fire Station. You will have fun learning what is needed to pass the 35 question multiple choice Technician Class exam. If you get at least 26 correct answers, you pass and will be granted an FCC license and call sign. The 2 day class is Free, the optional exam is $15. Donuts are provided in the morning and Pizza for lunch, bring your own drink.
What is Amateur Radio?
When cell phones, regular phones, the internet and other systems are down or overloaded, Amateur Radio still gets the message through. Radio amateurs, often called "hams," enjoy radio technology as a hobby. But it's also a vital service that has saved lives when regular communication systems failed.
Who are Hams?
Ham Radio operators are movie stars, missionaries, doctors, students, politicians, truck drivers and regular people. They are all ages, genders and income levels linked by their interest in wireless communications technologies. There are more licensed American Amateur Radio operators now than ever before in history.
Why do you need a license?
While license application requirements vary by country, the Amateur Radio Service is also controlled by international law and agreements because radio waves do not stop for international borders. In its regulated by the Federal Communications Commission (FCC) recognizes the ability of the hobby not only to advance radio communication and technical skills, but also to enhance international goodwill.
Take the exam
After taking a class, while the information is still fresh in you head, go ahead and take the exam. It just so happens we set aside some time right after the class to take your exam. It will cost $15 to take the 35 question multiple choice exam. If you get 26 answers correct you will be granted a FCC technician class license an amateur radio call sign and a 1 year free membership to SnoVARC.
What's the appeal of Ham Radio?
Hams are at the cutting edge of many technologies. They provide thousands of hours of volunteer community and emergency services when normal communications go down or are overloaded. All of them enjoy being creators, not just consumers, of wireless technology. Amateur Radio Privileges with a Technician Class license, you will have all ham radio privileges above 30 megahertz (MHz) including the popular 2-meter & 70cm band. Technicians may operate FM voice, digital packet (computers), television, single-sideband voice and several other modes. Technicians may also operate on the 80, 40, and 15 meter HF bands using CW, and on the 10 meter band using CW, voice, and digital modes. There is no cost to operate on the bands and brand new radios start for under $30.
TV Show Featuring Fictional Ham Tim Allen
Fans of the ABC Television show "Last Man Standing" may be aware that its main character, "Mike Baxter" — played by Tim Allen — is supposed to be a radio amateur, KAØXTT. While it may come as no surprise that the sitcom's producer is a ham — John Amodeo, NN6JA. The show's "Thanksgiving" episode featured a scene with "Baxter" in his basement ham shack. Amodeo said that for the first time in the series, Baxter will briefly talk on the radio. In response, viewers will hear a pileup created by using the voices of hundreds of real hams, sent in to the production company.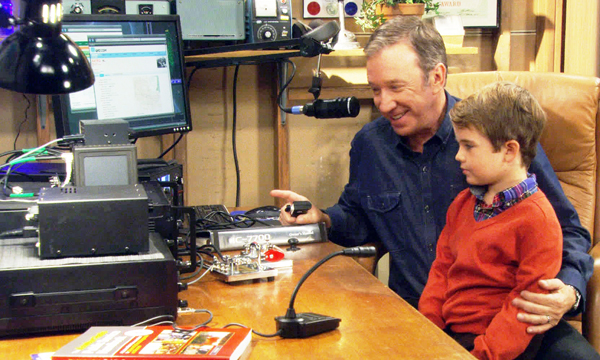 It seems that playing the part of a radio amateur on the TV sitcom Last Man Standing has influenced American actor and comedian Tim Allen to become a ham. The FCC includes in its September 4th, 2014 list a US Technicians licence KK6OTD under his real name of Tim Dick.
FAQs
Where can I contact the organizer with any questions?
Call Larry at 206-788-8818 or email n7art@arrl.net
Do I have to bring my printed ticket to the event?
It helps, but if you forget, that's ok.
What is the cost for the class?
Free.
What is the cost for the Free Donuts and Pizza?
Nothing.
What is the cost to take the optional license exam at the end of the class?
$15.
Where can I find all the questions and answers on the exam?
We give them to you during the class.
Do I need a textbook?
No, but it helps if you have "The ARRL Ham Radio License Manual", Get LEVEL 1 Technician book for use July 1, 2014 to June 30, 2018. ISBN 1625950136 .
Can I buy the textbook at the class?
Maybe, we have a limited quantity available. Give Larry a call at 206-788-8818 if you want one.
I want to try ham radio during the class, will you show me how?
Absolutely, there will be hams from the Snoqualmie Valley Amateur Radio Club (SnoVARC) to show you how.